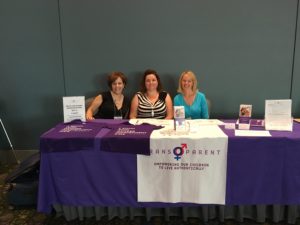 Are you raising a transgender child? Are you passionate about making the world a better place for them? Do you want to reduce the suicide risk associated with transgender children? Would you like to see more transgender children empowered to live authentically?
Starting a TransParent chapter in your local community will make this, and more, possible. As a TransParent chapter leader, you will provide connection, support and organized resources to families who are experiencing a range of emotions from isolation and fear to sadness and guilt. By forming a TransParent chapter in your local community you will help these families navigate their journey and increase awareness of this naturally occurring human experience.
We will give you all of the basic essentials to get started for free; your starter kit will include a business card template, important organizational forms, operating procedures, marketing tips, and more. We'll train you to operate within our Google Business Drive, be available for start-up coaching, and will meet quarterly via conference call for ongoing direction and support. We will also provide your chapter a website profile on TransParentUSA.org so that families can find you. Our brand is trademark protected and your chapter will operate as an integrated division of TransParent, a 501c3 not-for profit organization.
Families raising a gender independent child are in every community and hoping to connect with others who share this experience.  Click below to complete an application today.
Email questions to chapterinfo@transparentusa.org.
Click here for a Chapter Application.